Definition of Awe: a feeling of reverential respect mixed with fear or wonder.
-How do we ingest and digest information?
-What do we hold on to and what do we shed from memory?
-How do we modify information so that it fits our understanding of the world?
-What information forces us to shift our understanding of the world?
Studies show that the last question in particular explains one of the ways we feel 'awe'. Awe can be experienced when intaking information that forces a shift in our understanding. We feel awe when we are exposed to something larger than ourselves. We often associate this emotion when looking out onto a grand landscape or starry night sky. Brenna personally feels awe when grappling with concepts that force her to re-evaluate her foundational understanding of the world.
Awe is the emotion Brenna felt every day in the Conservation Corps that helped her better understand the grandness of the intricacies of the environment and the size of human impact on the landscape.
The goal of The Awe Factor is to give people the courage to grapple with concepts that may shake the foundation of their understanding of our world. We need to care in order to address climate change, and it is through art that we can foster this care.
Support for this work has been given by Playa Summer Lake - a center for the intersection of Art and Science in rural Oregon. Brenna will be spending 12 days in residency at the Center next February to delve into the science of Awe and how it can help us better grapple with concepts that shake the foundation of our understanding of our world.
Our goal is to raise $5,000 to launch development of The Awe Factor. Your money will go towards:
-Getting Brenna to Playa Summer Lake
-Getting dancers paid
Both are critical in developing The Awe Factor. We greatly appreciate your support!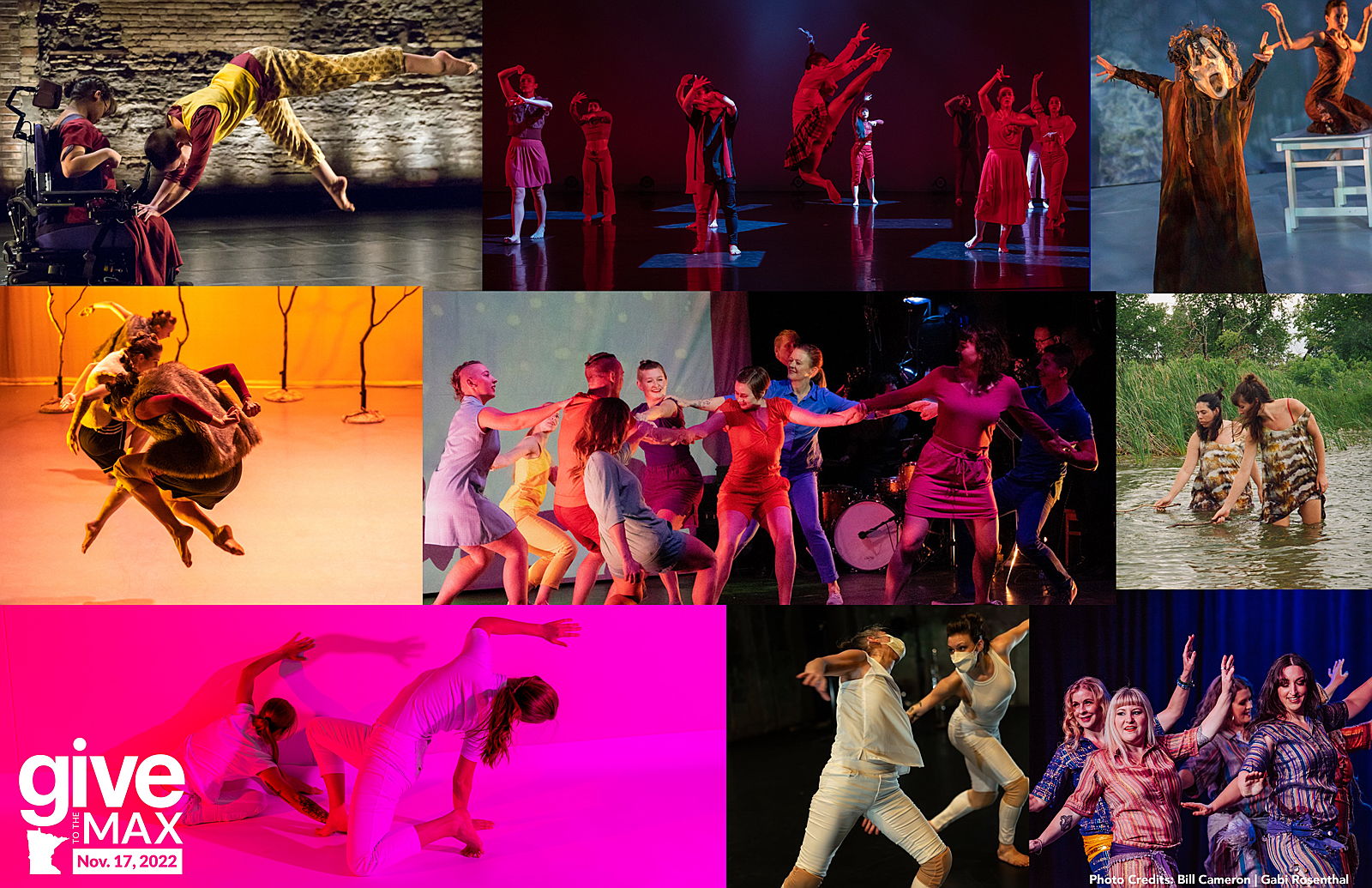 Donation bonus fun: donate at any amount and gain access to Move to the MAX: Virtual Edition!
Get moving and celebrate Give to the Max Day with a vibrant and energetic movement online event. Alternative Motion Project organizes and presents Move to the MAX: Virtual Edition '22, featuring Alternative Motion Project, Analog Dance Works, Black Label Movement, DanceBARN Collective, Jawaahir Dance Company, Off-Leash Area, Rhythmically Speaking, and Young Dance.
These organizations combine forces for a unique event highlighting movement in Minnesota. View compelling content includes a variety of distinct performances and films by each company on demand. Join us for the Great Minnesota Give Together to support these organizations' great work.
WHEN
Thursday, November 17th - Friday, November 25th
WHERE
Online On Demand Vimeo Link, sent directly to attendee
TICKETS
Entry to the event requires a 100% tax-deductible donation in any amount to at least one of the performing companies as part of Give to the Max Day (November 17th, 2022).
Donations can be made to any participating organization (please reference each company's website for how they are accepting donations for GTMD). Each organization will send the livestream link directly to its GTMD patrons. If you have NOT received the livestream link and have donated, contact the organization directly.
MORE INFO AND QUESTIONS
This is the fifth annual iteration of Alternative Motion Project (AMP)'s Move to the Max and the third time the event will be held online. AMP held an open call through the Dance Community Newsletter for movement organizations of all kinds to participate. The captivating evening will offer wide-ranging movement styles and genres.
Please direct any and all questions to alternativemotionproject@gmail.com. More info about the event can be found on AMP's website.